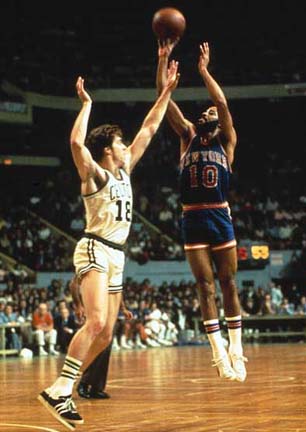 Only for about 70-77. Think about it, when was the last time New York and Boston were competitive at the same time? Larry Bird and his crew dominated in the 80's. Then through the retirement of Bird and McHale, and the death of Reggie Lewis, Patrick Ewing would go on a run with New York winning 18 straight of the head to head match ups.
But let's go back to the 70's where Boston and New York both captured two NBA titles. With Russell retired The Celtics would fall to the Knicks early in the decade with The Knickerbockers winning it all in '70 and 73'. But once Havlicek and Cowens got it rolling they'd reclaim the reigns as the leagues top dog.
ESPN is trying to convince you that this rivalry is filled with great match ups between Ewing and Bird. The rivalry is between Havlicek and Frazier, Cowens and Reed, Jo Jo and Earl The Pearl… those are the players in this matchup. The only problem is that those guys were all done playing 30 years ago.
Just for kicks this is probably the most intense point for Celtics/Knicks competitiveness. 1973 Eastern Conference Finals. Boston had one of the best regular seasons in NBA history at 68-14. With John Havlicek nicked up New York knew they had a chance, after all they had won 57 games themselves. The winner of this series would go on to play The Los Angeles Lakers in the NBA Finals.