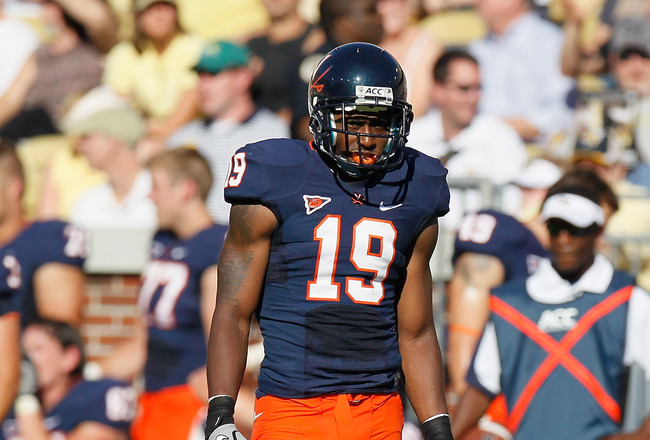 Ras-I Dowling was born in Chesapeake, Virgina on May 9th 1988. Dowling's father Larry is a huge boxing fan and decided to name his son after Ras-I Bramble, formerly known as Livingstone Bramble. Larry Dowling would take it even further by making Ras-I's middle name Luis after Jose Luis Ramirez.
Growing up Ras-I was a fan of defensive backs Ronnie Lott and Rod Woodson, both of whom played cornerback and safety in The NFL.
As a senior in high school Dowling had 60 tackles and 2 interceptions as a defensive back. He also had 14 receptions with four TD's as a wide receiver. Ras-I would commit to play at The University of Virginia, just a 3 hour drive away from his hometown.
Over his first three college seasons Ras-I played in 32 out of a possible 35 games. At just under 6'2" he has tremendous size for a corner back. Despite being bigger than the average DB Dowling's 40 time of 4.46 shows that he has the speed as well. Even though thought Ras-I missed almost his entire senior season at Virginia, the stats he posted in his first 3 years show what he's capable of. From his Freshman to Junior years Ras-I posted 144 tackles, 8 interceptions, 36 passes defended, and a sack.
Ras-I's senior campaign was riddled with injuries, he suffered a right knee injury, then a hamstring, then after going through all that his college career ended with a fractured left ankle. NFL scouts looked at this and labeled him as injury prone, but this was the only year that was seriously affected. As a result of a shortened senior season, Ras I Dowling dropped out of the first round in the 2011 NFL Draft and was picked 33rd overall by The New England Patriots.
Belichick on Dowling:
"We really felt that Ras I Dowling was a good pick for us there. Big corner, good tackler, been in a good program in Virginia. He's a guy who played in a system pretty similar to what we've run and a very impressive kid."