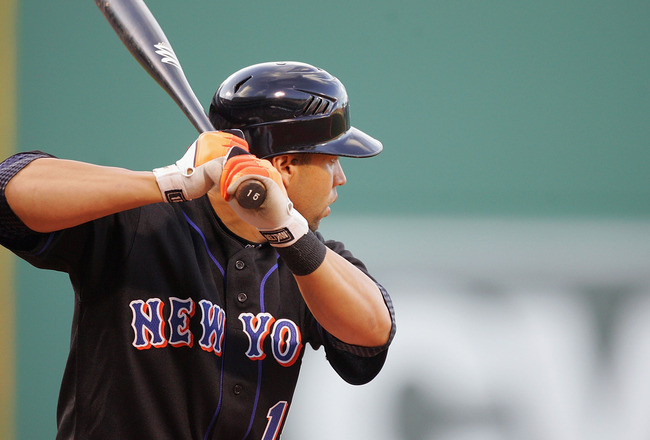 According to multiple sources the battle for Carlos Beltran has two teams who have been far more aggressive than the rest. It's a two team race between Philadelphia and Boston. The two teams who most have scheduled to play for the World Series in October.
Other rumors claim that The Mets are willing to pay at least part, if not all, of Beltran's salary for this season. Beltran's contract has him making 20 Million on the year, but technically he's only owed about 6 Million more for the remainder of this season. But with the annually high payrolls of both The Phillies and Red Sox, who lands the 34 year old Switch Hitter could most likely come down to who has the better prospects.
Both teams have top of the line farm systems, but after the Adrian Gonzalez trade Boston only has 3 Top 100 Prospects, and zero in the top 50. Philadelphia on the other hand have 4 Top 100 guys, 2 in the Top 50, and 1 in the Top 10. No one expects Philadelphia to deal a top of the line prospect like Dominick Brown for a player who most likely isn't long term. And on the other side even though Boston's Jose Iglesias is ranked just 52nd by BaseballAmerica, The Red Sox have high expectations for the young Short Stop and feel his Gold Glove potential could finally stop their revolving door at SS.
Maybe Boston could get it done with just low level prospects who could still fill rolls. Only the Mets know who they'd be willing to take, only the Sox and Phillies know who they'd be willing to give up. What is it worth to a WS Contender to add a switch hitting right fielder, with center field experience, who's hitting .294, with 30 doubles, and 14 HR's? Obviously that sounds like something who'd give up quite a bit to acquire... but then you add that this guy will most likely be testing Free Agency, and the face that he's 34 with some past injury problems.
JD Drew isn't enough in right field for the Boston Red Sox. Josh Reddick is a nice young player who is already an upgrade, but if you could add Beltran even just for this postseason it could be the difference between your third Championship of the decade, and another disappointing postseason.
.