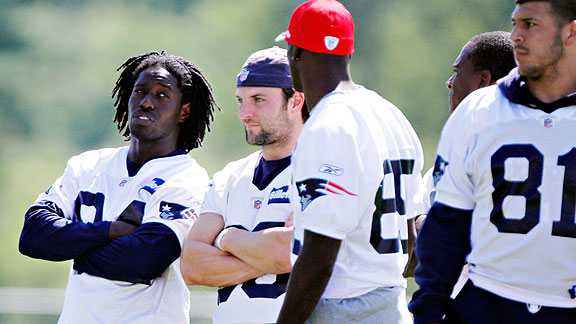 Chad Ochocinco is the most obvious addition to this WR Corp, but I don't think he's necessarily the only upgrade to this offense.
Wes Welker now has a full season under his belt after his knee injury. Despite having a Pro Bowl season with over 800 yards and 7 TDs, Wes was clearly not 100%. There were times where he'd catch a pass underneath and immediately be brought down and you'd say, "boy he would have broke that for 30 yards last season." Well this year he'll be back to there. I'd say Welker is a lock for 100 rec, 1,000 yards.
Deion Branch returned to New England before week 5, and after having a couple hiccups, quickly picked up where he left off. The #84 Deion may not be as athletic as the #83 version, but he's still a very skilled route runner with good hands, and a TON of experience in this offense. Branch could take a step back statistically with all the other options, but his importance will stay put.
Last season Rob Gronkowki set a rookie record for Touchdowns. This year Gronk has been tearing up the preseason, everybody's reporting the dominance from down in Foxborough. I don't know if Rob will put up another 10 TD's but if he added to that total it wouldn't surprise me. #87 will be a Pro-Bowler, and will once again lead the Patriots in Touchdowns. He's this teams Red Zone bread and butter.
Gronk isn't the only 2nd year tight end to look out for. Aaron Hernandez's rookie season would have been the talk of the town in any other city, the only problem is that him and Gronk came in the same season. While Aaron isn't the same type of TE Rob is, in some ways he may be even more effective. At 6'2", 250 pounds, Hernandez is still as fast as a wide receiver. He posted 45 receptions for 563 yards and 6 touchdown as the youngest player in the league. Expect some huge plays from the new #81.
Then there's the elephant in the room, Chad Ochocinco. Everybody knows that Chad is a 6x All-Pro wideout, with great hands, excellent route running ability, and a HOF level compete level. The only problem here is that he seems to be struggling with the offense. Ocho has been in New England for the entire training camp, but still seems to be over thinking on the field. I expect #85 to get it figured out eventually. If him and Tom Brady can get on the same page he could easily take the best offense in football and kick it into an even higher gear... but that's a big if.
Taylor Price is a 2nd Year WR, and another member of Belichick's now legendary 2010 Draft class. Here's what CBSSports had to say on Price:
"The 2009 Bobcats ranked just 106th in the nation in total offense (310.14 yards per game), and 82nd in passing (198.14 yards per game), but Price has still managed to produce 28.26 percent of the team's passing yards. He is a strong, physical runner with excellent field vision and a team-first work ethic making him an inviting prospect."
Price will most likely take over that 4th WR role behind Ocho, Wes, and Deion. In his first Preseason Game, Taylor looked dominant while playing alongside backup QBs Ryan Mallett and Brian Hoyer.
Up next are Lee Smith and Will Yeatman, who are both rookie Tight Ends.
Smith is a rookie out of Marshall who is considered the best blocking TE in the draft. In camp Smith has shown unexpectedly soft hands, and has been seen some serious time. Standing at 6'6" and 268 pounds, Lee has some serious size. Smith will most likely fill the on-the-field role left open by Alge Crumpler, but will obviously obviously fall short of Alge when it comes to leadership.
Will Yeatman was signed as an Undrafted FA on July 27th. Will played College Football and Lacrosse at both Notre Dame and The University of Maryland. After being suspended twice because of problems regarding alcohol, Yeatman left Notre Dame in January 2009 (after his Sophmore season). Will played Lacrosse both years at Maryland, then returned to football his Senior Year. The 6'5" 268 pound rookie has shown that he's a force in the blocking game, as well as a capable receiver. In 2 preseason games he has 4 receptions for 23 yards.
One WR who I think is going to take a step back is Brandon Tate. With the arrival of 2nd year Wideout Taylor Price, and the new rules on kickoff return, i think Tate's value has dropped tremendously. Brandon is an excellent kick returner, and an average 4th receiver. If he can show improvement this preseason then he can keep his spot as the 4th option, but Tate has been injured most of training camp and has missed the first 2 preseason games. Meanwhile Taylor Price has been turning heads. With The Patriots most likely keeping extra Tight Ends and Running Backs, If I was Tate I may be concerned.
Depth Chart:
WR:
Chad Ochocinco
Wes Welker
Deion Branch
Taylor Price
Brandon Tate
TE:
Rob Gronkowki
Aaron Hernandez
Lee Smith