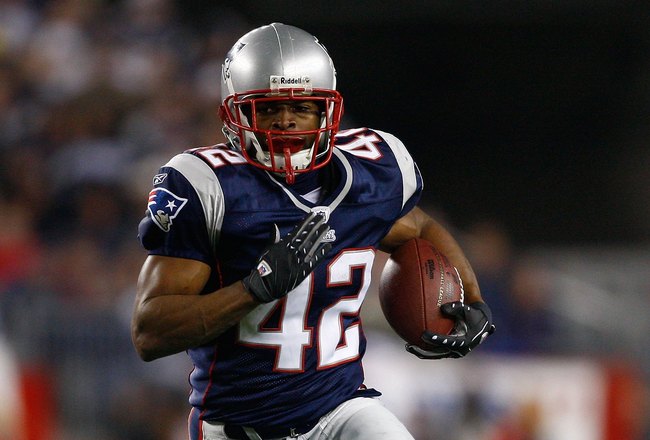 From his start at Indiana University to his transfer to Ol' Miss, Benjarvus was always a consistently productive college running back. Green-Ellis posted 938 yards rushing as a IU Freshman. As a Sophomore he collected 794 yards and 5 TDs despite splitting the load with Chris Taylor. His Junior season at Ol' Miss marked his first 1,000 yard rushing season, then after 1,137 yards in his senior Year he became only the second Ol' Miss RB to post back to back 1,000 yard campaigns.
Despite posting a very productive resume The Law Firm would go undrafted in the 2008 NFL Draft.
After signing with The New England Patriots on May 1st 2008, Green-Ellis would spend about 4 months proving himself on the organization's practice squad. On October 11th, BenJarvus was finally promoted to the active roster. After an injury to running back Lawrence Maroney, The Law Firm got his first career NFL start, and also tallied his first TD. Later in the year Green-Ellis would have his first 100 yard game against the Buffalo Bills.
After a stagnant 2009 campaign with only 26 carries in 12 games, BenJarvus would more than make up for lost time in 2010. With Lawrence Maroney traded to Denver, The Law Firm was now The Patriots' primary Running Back. BenJarvus would appear in all 16 regular season games with starts in 11 of them. He scored 13 rushing TDs and became New England's first 1,000 yard rusher since Corey Dillon 6 seasons earlier.
Another interesting statistic: BenJarvus Green-Ellis has never fumbled... ever. Not at Indiana State, not at Ol' Miss, not in New England, not ever.
The 26 year old veteran entered the NFL lockout as a Restricted Free Agent, but is reportedly now officially back with New England. No word yet on the details of the signing, but with what BenJarvus Green-Ellis has been through just to get this far... i'm sure it's all worth it to be part of a Super Bowl Contender.
From undrafted, to 1,000 yards rushing, Bill Belichick still knows how to find his guys. And The Law Firm is undoubtedly one of them.
UPDATE: @JeffHowe- "NFLPA documents show BenJarvus Green-Ellis only signed a one-year deal with the Patriots."

.