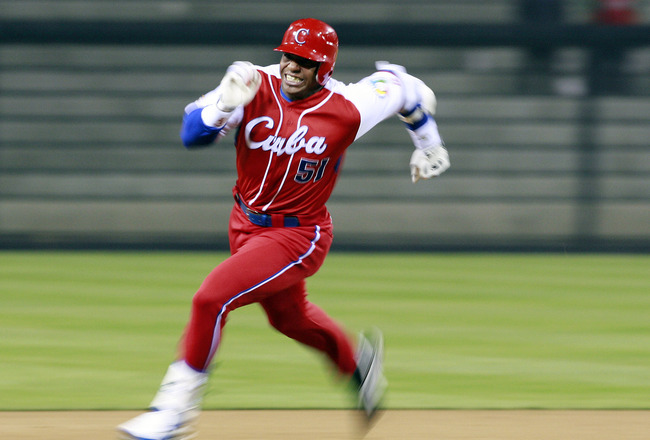 Yoennis Cespedes is a 26 year old defected Cuban outfielder who released a now notorious Youtube video of him performing a mix of Baseball and NFL Combine drills.
On Monday Yoennis was granted free agency by Major League Baseball. As expected, the Red Sox, Yankees, Phillies, Dodgers, and Nationals are all on the list. But also in the hunt are the Florida Marlins. The Marlins could really take a step out of the basement with Cespedes. Miami has a huge Cuban population and Florida feels that the acquiring of Yoennis could have a "Pedro-Like" affect on the city.
Boston also could be a serious contender as well. Up until the past couple days The Red Sox only options in right field seemed to be Carlos Bentran, who was productive last season but is on the wrong side of 35, or their in house prospects. While Reddick opened eyes last year, he's not exactly what you dream about in a big market city like Boston. Yoennis Cespedes could be a superstar, of course he could also just be a dud... but with the money he has available, Ben Cherrington could make a serious run at the kid.
In the 2009 World Baseball Classic, while playing for Cuba Yoennis hit .458 with a .480 OBP, an OPS of 1.000 with a double, 3 triples, 2 home runs, 5 runs and 5 RBI in six games.
Here's the insane youtube vid: